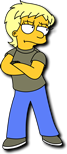 Written By: Jake Lennington
Maggie and Eric is a fan series set 12 years into the future from the current timeline. Homer and Marge have had a fourth child, Eric, who inherited much of Marge's DNA (thanks to Homer working at the plant) and Maggie is agressive, and a tomboy, who hates Lisa with a passion. Bart, works for a local radio station with Jessica Lovejoy and Lisa is a travelling sax player. Many other aspects around town have also changed, Mr. Burns is dead, and the plant is run by Smithers with Homer still working there, Lenny and Carl are gone, Principal Skinner is mayor, and is married to Mrs. Krabappel with a son, Arlie. And many products are now produced by the XL Coorperation, which Bart works for.
Season 18
18.01: The Maggie & Eric First Unannual Academy Event Hosted by Homer and Marge
Homer and Marge host this "Academy" style of event in grand style as the family and Springfield relive some their favorite moments. Between clips, Homer is trying really hard to stay sober as his former flame, Alexis Crowley is hitting on him from backstage, unknown to Marge.
18.02: Pine Soul (THoH Episode)
The Simpsons and DeGeorges are camping in the heart of the Springfield National Woods when each set of parents claims to have seen a ghost. Smitten with the urge to prove the other family wrong, Mark and Homer split up and go in search of the legendary ghostly gold prospector.
18.03: Trying to See Straight
Bart and Jessica usually are not the best of friends, but when Jessica has the hots for, in her opinion: "really cute gay guy" she tries to ask Bart to help her get that guy to like her. But when Bart laughs, Jessica tells the guy Bart is gay and tries to set Bart up and have him fall for her after Bart "dumps" him.
18.04: Springtropolis
When Maggie wins an building design contest she is asked to help design phase 3 of the X.L. Corp's vision of the City of Tomorrow, a somewhat jealous Lisa turns in a set of designs on the side and are dumped on the side. Saddened by the loss, Maggie vows to find out who upstaged her. Meanwhile, Marge and Homer are worried about the increased use of computers in the public as they fear people being watched is becoming out of control.
18.05: DeGeorge in DC
Mark's father quits his multimillion dollar CEO position and decides to run for Senator as a republican, but when Mark hears of this news, he becomes entranced at proving he can be a "big shot" too, and runs for the democratic seat. Meanwhile, Mandy tells Homer and Marge of his time as an upstart republican internship when Mark was in his early 20's up to when he met the then 17 year old Mandy.
18.06: The Maghuasen Syndrome
Maggie, caught in the middle of a robbery gone somewhat wrong, becomes the hostage of a nervous thief. Upon locking themselves up in the gas station, Maggie begins to feel sorry for the guy after hearing his sob story while being tied up. When it comes time to face the music, Maggie tries to convince the guy to give himself up, but doesn't know whether or not to stay with him if he manages to get away.
18.07: One foot in the Wave
Maggie and Eric (and Felecia) are having a blast along the coast and decide to get "in" with the surfer crowd. Eric, clumsy as usual, nearly kills himself on a board, Maggie, not even worrying about surfing, is admiring the guys, and Felecia is doing surprisingly well for her age as she is offered a small sponsorship and a chance to compete. Meanwhile, Maggie is becoming a local pro at beach volleyball and Eric seems to be a ladies magnet.
18.08: Adam Rant
When Marge attends a live taping of the upcoming Sunday morning show before the Rev heads out on vacation, she hears some verses from the Good Book that the Rev made up. Pissed, she stands up and demands the proper, REAL, passages are spoken. Come Sunday, the corrections aren't made and Marge starts here own Sunday morning church show on Public Access Cable. Meanwhile, Marge asks Rodd Flanders, who's visiting Springfield with his wife, if he can be a guest speaker. He agrees and before the show, he tells Marge what happened to Todd and his new life in Vegas.
18.09: Meet Jim Shorts
Mayor Skinner, in an effort to get the town's youth in shape, enlists Maggie Simpson to be the role model for youth fitness in a program called Operation Jim Shorts. Unfortunately, Maggie's ethical treatment of the students is a bit less than forgiving and becomes known as a local hard-ass.
18.10: Crash Test Mommy
Marge is a victim of a hit and run and is moderately injured. Once she recovers, she does a bit of detective work to find out who the guilty party is.
18.11: The Option of Clothing
Springfield is chosen to host the 12th annual Miss Nude America contest putting the men against the women and the conservatives. Marge naturally opposed, plans to protest while Mandy's older sister is one of the contest's organizers and plans to hold the contest no matter what anyone says.
18.12: It's the Great Lumpkin, Maggie Simpson
Lurleen Lumpkin's brief return to Springfield, and visit with Homer and Marge (who's not mad, this time) winds up with an introduction to Maggie, who's a bit reluctant to meet country music stars. After a brief get-to-know chat, Lurleen is charmed by Maggie's potential singing voice and tries to make her take up a career in the music business.
18.13: Promotion Commotion
When Bart recieves a perceived Pink Slip, along with Jessica and the other DJs, the downtrodden workers at KBXL FM have to read a "goodbye" letter to the listeners when it turns out they hadn't lost their jobs, but they were all part of a new promotional stunt for a new contest. Furious, the normally clashing personalities decide to get back at their boss in the most conniving way possible--having his ex-wife tell him she's interested in going out again via a bogus date.
18.14: A Shot in the Park
At the new local park, the nerds--Gerald, Leena, and Sven are testing their latest invention: a backpack mounted, high-pressure potato gun. After drawing a rather large crowd, several other high school and elementary students start to build their own, resulting in a craze that's about to go crazy. Soon Springfield is the potato gun capital of the world and Maggie tries to outdo the competition.
18.15: Doll Housed
In a quasi follow-up to Lisa vs Malibu Stacy, the company that made Lisa Lionheart is about to declare bankruptcy, so for the most gimmicky stunt ever, they make a new line of dolls for girls ages 4-10 that is based on the "realism" of the Simpson family--the catch, Homer, Marge, Maggie and Eric must live in a real-life version of the companies doll house in Las Vegas, but have to let tours enter every few hours. Unfortunately, the kids aren't too happy with the companies scheme of things and Eric is tired of the constant verbal harassment at his new school.
18.16: Love your Hennessy
Bart becomes the spokesman for Duff Beer, but develops a minor problem: he's on the verge of becoming and alcoholic from all the free beer he's been given. Meanwhile, Marge has been trying to get Homer to curb his drinking bouts as she feels Eric might be losing respect for Homer as a father.
18.17: Test Your Chops
When Lisa's performance is interrupted by some drunks and a few of the security personnel nearly fail to stop the men from getting on stage, Lisa becomes weary of her overall safety and decides to learn some karate. Deciding to take some time off, she begins to like the routine and decides to enter some competitions to help propel her new hobby/sport. Not long after hearing about Lisa, Maggie decides to learn some karate, too, and winds up facing off against her older sister.
18.18: This Old West (Three Story Ep) Goldie Pawn: Leaving behind the family back east, Homer and Maggie are in the hills surrounding San Francisco in 1849 and stumble on a large stash of gold and try to defend it from claim jumpers and the threat of each other running off with the loot.
The Westerly's: Bart Simpson and Jessica Lovejoy are traveling actors called the The Westerly's who perform skits in saloons and are becoming famous as their stage-operas are both romantic and adventurous, but their other hobby is starting to catch up with them--when not on stage, they're bank robbers and the local sheriff thinks he's made the connection.
The Springfield Braves: Eric and Felecia's school is attacked by Indians, but when the tribe realizes the teacher's run off and the only the kids remain, he offers them a chance to see what the life of a native is really like. All are for the idea, but Felecia's constant whiny behavior is starting drive Eric--and the captors--crazy.
18.19: The Will of Burns (Part I)
Mr. Burns's will is uncovered from a recently discovered vault in his old office during renovation. Surprisingly, it states the plant be left in Larry Burns's name, but in a fit of senility, Mr. Burns also states the plant be left to Smithers. Being the only document left that states what the plant's future is, Smithers and Larry Burns are in a power struggle of who is able to control SNPP. Meanwhile, Herb, who helped Smithers bring the plant up to code, is playing the role of negotiator.
18.20: The Will of Burns (Part II)
With Negotiations seemingly going well, the plant suffers a critical situation--A REAL meltdown has started and the only way to stop is a manual shutdown of the core from within 20 feet of the radiation leak, so whomever shuts it down is most likely going to die of radiation poisoning.
Disclaimer: The Simpsons is a copyrighted trademark of 20th Century FOX. Any and all content on this site is not authorised by FOX. This site is owned and maintained by Gary M. Gadsdon