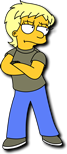 Written By: Jake Lennington
Maggie and Eric is a fan series set 12 years into the future from the current timeline. Homer and Marge have had a fourth child, Eric, who inherited much of Marge's DNA (thanks to Homer working at the plant) and Maggie is agressive, and a tomboy, who hates Lisa with a passion. Bart, works for a local radio station with Jessica Lovejoy and Lisa is a travelling sax player. Many other aspects around town have also changed, Mr. Burns is dead, and the plant is run by Smithers with Homer still working there, Lenny and Carl are gone, Principal Skinner is mayor, and is married to Mrs. Krabappel with a son, Arlie. And many products are now produced by the XL Coorperation, which Bart works for.
Season 33
33.01: The Thin Bob Line, Part II
When our hero, Bob, along with the rest of the Family, minus Homer, was gassed and left in blissful slumber, Colt and Banner kidnaped Homer and are demanding a Million Dollar ransom. Angry the duo got the best of him, Bob vows to get Homer back. Meanwhile, Bob comforts a distraught Eric and promises him he'll get his dad back. Now teamed with Bart, Bob follows the clues to Capitol City to find Homer.
33.02: Sibling Musication
Lisa's relationship with Eric has been the mentor that tries to bring out his talents, which may or not be musically related. After trying to play a guitar, sax, flute and trumpet, Eric realizes his musical gifts were never given to him. Feeling the "spark" isn't there, Lisa doesn't want to give up, but Eric is becoming a bit tired of Lisa's persistence. Meanwhile, Maggie is trying to tell Lisa to "back off" and quit trying to live her life through their brother. Lost in the middle of this conflict, Eric begins to seriously wonder what his "niche" really is.
33.03: Treehouse of Horror
For the past week, some strange lights and sounds have been emanating from the Treehouse, but every time Maggie reports the events to Homer and Marge, they dismiss it as her overactive imagination or carbon monoxide. Unfortunately, Maggie decides to take it upon herself to spend the night before Halloween in the Treehouse to find out what is going on. Around 2 a.m., she's awoken to find a portal to what appears to be Hell and is warned the world will soon end and the powers of darkness will reign. Now with time running out, she has to stop the evil trying to get through, otherwise she will miss trick-or treating with Eric.
33.04: Matra-D'OH-Me
Maggie's digging through old photo albums finds a picture of Homer and Marge taken a few months after graduation and on the back, it reads: TO MARGE: I promise you a one week trip to Paris in exchange for a loan of $1,000 for a new set of rims. SIGNED HOMER. When Maggie asks Marge if Homer ever repaid her, Marge realizes she totally forgot about the money when she discovered she was pregnant with Bart. So, to save face, Homer tries to fulfill his promise to Marge and takes her to France but the trip turns into a nightmare when the happy couple is lost and their money is stolen. Meanwhile, Bart, Maggie and Eric are locked out of the house and are forced to reside at Bart's one bedroom apartment, along with Bart's new girlfriend, Tina, whom Maggie hates with a passion.
33.05: The Low Crab Diet
Felecia's mother, Mandy McCallister DeGeorge's great Uncle was Captain McCallister (arrr!) and he's just passed away. For Mandy, she worked on her Uncle's boats for a few years before she met her husband, but she never liked the prospect of being a fisher woman. But when the Will of Captain McCallister states that his two surviving decedent who are legal age Mandy, and her distant cousin whom she's never met, Buck, are deemed heirs IF they can run the family business and if they do it well, the attorney will give the winner the business and the $2 million dollar cash payout. Unfortunately, Felecia is dragged into the scheme of things and is now fishing and Eric feels like his best friend has dollar sign eyes since she's never around much.
33.06: The Skinny of Homer
At age 48, Homer has spent nearly half his life fifty pounds overweight and is seriously considering getting his stomach stapled. Marge, on the other hand, is against the idea because of reports of people dying from gastronomical mishaps, plus she'll miss cooking the goodies for Homer all these years. Meanwhile, Maggie is against the surgery and Eric is for it since Homer was never the active father figure he wanted. Contemplating both sides of the argument, Homer is at a loss.
33.07: Famous Firsts, Volume 1
In a trilogy segment, we see the first time...
Segment 1 - The Pride is High: Bart's first day as the morning show DJ at KBXL FM, which is also the first day he's reunited with Jessica Lovejoy after the scrubbing incident at the Church in Bart's Girlfriend.
Segment 2 - Bitch of Burden: Maggie's first day at receiving a weight set for her 10th birthday and the family's reaction to her decision to "pump up."
Segment 3 - She's leaving Home, Bye, Bye Lisa's first night away from home after graduation and her first improvisational gig playing at an old hangout of Bleeding Gums Murphy (and the dread of having her new car almost stolen).
33.08: Stampy, We Hardly Knew Ye
Bart's beloved Elephant from Bart Gets and Elephant, Stampy, has passed away from old age. Heartbroken, Bart chooses to sponsor an African elephant project at the local zoo by using his morning show to help raise funding for care of their new animal. Proud her brother is taking an interest in helping endangered species, Lisa volunteers some time at the zoo in caring of the creatures, but when the money never reaches the zoo, Lisa does some digging through the paperwork at KBXL and discovers someone has been stealing the donations and she tries to find out who could be doing so.
33.09: The Lovejoy Connection
When Lisa's stop at a nightclub in Capital City winds up in a meeting with the debauched Jessica Lovejoy, Jessica drunkenly tells Lisa that she'll never find the right man with her square-ish looks and stiff, librarian exterior. Pissed, Lisa walks away, but Jessica's words sink in. After making a few calls at the club the next night, Lisa finds Jessica's hotel room and reluctantly asks Jessica how to tune up her personality without becoming a total slut. Meanwhile, Bart is doing his morning radio show solo and is trying to get the band Schizonova to reform on air.
33.10: The Drama King
Reverend Lovejoy's Sunday morning program...has been cancelled and has been replaced by the Six Min. Abs paid program. Dejected by the public's migration from religion (even over-glossed, televangalism) Timothy Lovejoy calls in a few favors from old friends, one of which was an old acting coach with some connections. After a few phone calls, Tim lands, and wins an audition for Detective Thurston, a generic cop/detective drama for NBC. Wishing him luck (and thanking him for going off the air) Homer is proud of Tim, but Marge wants him back on Sundays, despite the various scandals over the past few years.
33.11: Queen of the Hill
Maggie's accidental, yet careless biking into a busy intersection while wearing headphones causes her to fail to notice a cargo truck coming towards her. Swerving at the last second, the truck crashes through a storefront, causing nearly 30,000 dollars in damage. With a somewhat spotty juvenile record, Maggie is sent to Juvenile hall and the Head Officer is a reformed Gina (from The Wandering Juvie). Unlike her older brother, Maggie's got an edge--she's already a very tough girl when she needs to be, and her first goal is to kick the toughest girl's ass. Meanwhile, Gina sees Maggie's mean streak and it reminds her of herself during her stay and she wants Maggie to "go straight", and she also wants to meet up with Bart and see how he's doing nowadays, too.
33.12: All That Is Jazzless In Springfield
Lisa's nightclub she watched Bleeding Gums Murphy perform at in Moaning Lisa is being forced to change with the times as the underground Jazz/Blues scene, in the owner's eyes (voiced by Dan Ackroyd), is becoming to passed. So to become profitable again, half of the club is turned into a Hooteresque bar (with Jessica Lovejoy as part-time waitress) and the other half a mainstream, Applebee-like diner. Appalled, Lisa and her fellow Springfield muscats join forces to try and come up with the funding to start their own performance spot, or convince the Jazz Hole owner to change his mind. Even worse, the rest of the family like the new renovations much more than the old, tired one, making Lisa be the loner again, like always.
33.13: The Two Powers (or, Eric vs. Feminism)
Felecia's being caught in the middle of her mother's anti-Simpson agenda and her friendship with Eric are causing her to form a mild case of depression. Wanting to get her point across, but not wanting Felecia to be led down the path of heartbreak, Mandy takes Felecia to the Springfield Women's Expo to get the skinny on what being involved in the Feminist movement. Meanwhile, Eric learns of Felecia's seminar trips and is worried she might wind up siding with Mandy and eventually not be friends with him anymore.
33.14: Proper Spoilage
Marge's baby, Eric, grades have been slipping which leads to a trip to the school's academic advisor and after a lengthy discussion about Eric's lax upbringing, Marge has to bit the bullet and become an academia pressure point on Eric as much as the last three kids. Meanwhile, Maggie's turning into quite the mechanic by learning how to perform some forms of car repair on Homer's car.
33.15: Your Theme Song
For Valentines day, Eric decides to write Felecia a song about their friendship and when Lisa hears the early version, she's impressed with Eric's song writing abilities. Seeing the lyrical potential of her brother, Lisa asks Eric to form a song partnership and Eric agrees as long as Felecia can be part of the team. Unfortunately, Lisa finds Felecia's contribution a bit too ditzy for her tastes and this places Eric and Lisa at odds over this business promotion.
33.16: Maggie and Meyoko
Mayor Seymour Skinner and his 10yr old son Arlie host a 12yr old Japanese exchange student, Meyoko whom Arlie has become close friends with. At a get-to-know BBQ at the Mayor's mansion, the Simpsons are invited along with the DeGeorge Family and several other families. After meeting Maggie, Meyoko is fainted with woman who's such a strong, both physically and socially, person. From Maggie's point of view, Meyoko is a bit too timid and needs some help upping her persona. With her help, Maggie thinks she can help Meyoko become top dog when she returns to Tokyo, but learns what it's like when being humble is more of an asset than a hindrance.
33.17: The Death of Mr. Dash
Paul Opitz, the actor who plays Dash Dangerous, is killed in a stage mishap while filming the 9th Dash film, Dash Takes Manhatten. With the children of Springfield in mourning over his character, a small petition starts to bring the character back and a search for Dash's replacement begins. After a few auditions, Mark DeGeorge is in the running, but Homer's dislike for Mark and his 6'7-ness makes Homer think he's too tall for the part. Meanwhile, Bart hears of the auditions and tries out for the role, too and with Eric backing his brother, and Felecia backing her Father, they begin to feel loyally conflicted.
33.18: Almost Lost
Mr. Smithers, now running Springfield Nuclear from Burns's mansion which he inherited, receive a phone call from the Department of Travel in Bermuda--Mr. Burns's small, single-engine plane has been found on one of the little islands surrounding Bermuda, but there's no body near the plane. Excited, Smithers plans a secret trip to the island, but Homer gets wind of the trip and wants to see the "corpse" of his much feared boss of yesteryear. Lying to Marge, Homer and Smithers embark on a two-week trip to see if they can uncover the body.
33.19: Almost Lost, Part 2
With their guide dead, Homer and Wayland Smithers are stranded somewhere on the island. Lost, and with little food, the duo stumble upon a network of caves which house some hostile natives. Captured, Homer and Smithers try to beg their captors to set them free and when it appears that they'll be sacrificed to the natives's God, Smithers see the drawing and it appears Burns IS their god. After deciphering the drawings on the cave walls, Smithers realizes the Natives saw Burns plane fall out of the sky, and he walked away from the wreck, thus the natives thought he was a "god". Getting his second wind, Smithers becomes a bit hostile, and tries to get the message across of wanting to know what happened to his old boss.
33.20: Turning Your Back On Turning The Other Cheek
Lisa's patient relationship with Maggie comes to an abrupt end as Maggie's badgering Lisa's new song causes her to snap. In a rare outburst of anger at a family member, Lisa gets in Maggie's face and tells her where to stick her unhappy, angst-filled existence and that she never wants to speak to her ever again. With the two Simpson Sisters now fully turned away from each other, Homer and Marge are both upset and saddened at how much Lisa and Maggie now resent each other. And after a trip to the doctor, Maggie tells Hibbert her biggest cause of stress is her older sister. But when the news is Maggie showings signs of hypertension, Hibbert tells her she has to let go of the hostility, or it will kill her at an early age. As for Lisa, her anger towards Maggie is getting in the way of her love of music and is causing her to mess up on stage. Together, yet apart, the sisters must learn to put aside their anger and get on with their lives.
Disclaimer: The Simpsons is a copyrighted trademark of 20th Century FOX. Any and all content on this site is not authorised by FOX. This site is owned and maintained by Gary M. Gadsdon