This is the fan character compendium, it works similarly to the
Character Biography
page but instead of focusing on characters in the show, it covers the biographies of characters that fans have created for Fan Fiction. The icon next to their name indicates which fan fiction they come from. Some of the biographies featured on this page are written by the creators themselves.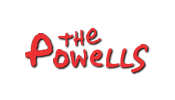 Clancy John Powell
Created by: Gracie Evergreen
Age

10

Born

July 2

Hair

Brown
Father

Herbert

Mother

Marge

Sisters

Eliza May
Jacqueline
Stephanie

Aunt

Abbie

Uncle

Homer

Cousins

Bradley
Lexie
Clancy John "CJ" Powell is the second-born of four and only son of Marge and Herbert Powell, and brother of Eliza, Jacqueline, and Stephanie. Being the only boy amongst his sisters CJ feels lonely in the family and oftentimes being misunderstood. It has been implied, however, that he is Marge's favorite, much to Eliza's dismay.
The fact that his oldest sister, Eliza, stays at a private school and is hardly at home, he takes over her obligations in looking after his younger sisters, Jacky and Steph, making the bond between the younger Powells stronger when it comes to taking sides in a fight between CJ and Eliza.
Despite him being bullied by his older sister most of the time and fighting with her over petty things, CJ secretly looks up to Eliza, even blames himself when she runs away from home one day to stay with their lost uncle for a few months. Realizing the falling apart of his family and the misery of their mother due to Eliza's disappearance, CJ decides to look for her on his own and convince her to come back home.
At 15, CJ falls madly in love with Reverend Lovejoy's daughter, Jessica, who is a troublemaker just like his sister, Eliza. Throughout high school, CJ and Jessica have an on-again/off-again relationship, and, despite having dated other people, they reunite in college where they attempt to have a stable relationship and eventually get married shortly after graduation.
Disclaimer: The Simpsons is a copyrighted trademark of 20th Century FOX. Any and all content on this site is not authorised by FOX. This site is owned and maintained by Gary M. Gadsdon