This is the fan character compendium, it works similarly to the
Character Biography
page but instead of focusing on characters in the show, it covers the biographies of characters that fans have created for Fan Fiction. The icon next to their name indicates which fan fiction they come from. Some of the biographies featured on this page are written by the creators themselves.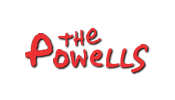 Jacqueline Powell
Created by: Gracie Evergreen
Age

3

Born

April 29

Hair

Light Blonde
Father

Herbert

Mother

Marge

Brother

Clancy John

Sisters

Eliza May
Stephanie

Aunt

Abbie

Uncle

Homer

Cousins

Bradley
Lexie
Jacqueline "Jacky" Powell is the second daughter and third-born of Herbert and Marge Powell, and sister of Eliza, Clancy John, and Stephanie.
Jacky is more relaxed than her older siblings and, at barely 3 years old, reveals to have a special talent for music. On her 3rd birthday, her father buys her a guitar and later a drum set which Eliza has accidentally (or deliberately) broken.
When it comes to her older siblings' fighting or having an argument, Jacky would usually take her brother's side no matter who is right or wrong, alienating her further from Eliza as the years passes.
Disclaimer: The Simpsons is a copyrighted trademark of 20th Century FOX. Any and all content on this site is not authorised by FOX. This site is owned and maintained by Gary M. Gadsdon