This is the fan character compendium, it works similarly to the
Character Biography
page but instead of focusing on characters in the show, it covers the biographies of characters that fans have created for Fan Fiction. The icon next to their name indicates which fan fiction they come from. Some of the biographies featured on this page are written by the creators themselves.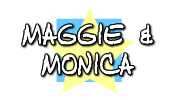 Margaret Simpson
Created by: Kathryn Bunny
Age

15

Hair

Blonde

Laterality

Ambidextrous
Father

Homer

Mother

Marge

Brother

Bart

Sisters

Lisa
Monica

Best Friend

Diamond
Maggie Simpson is Fifteen years old and has a knack for trouble making! She is rather sweet at heart but she is quite tough when she wants to be! Maggie loves skateboarding and spends her childhood years whizzing round the streets on a skateboard, Maggie changed her hair-do after fear of being recognized by Mr. Burns, The One who she shot at the age of one.
Maggie's Best Friend is Diamond Bunny. Maggie was given Lisa's old room when Lisa moved out at eighteen, until then Maggie had still been stuck in her nursery and loathed it even when Marge tried to make it look more grown up. Maggie may not be as soft as Lisa but they still manage to get along. Maggie has a slight deepness to her voice.
Maggie is punished quite a lot for her endless efforts to get what she wants, Marge makes her normally do stuff to help Springfield's Community, e.g. Picking up litter and even if Homer says he is disappointed with the way his baby girl grew up Maggie is still his little princess.
Disclaimer: The Simpsons is a copyrighted trademark of 20th Century FOX. Any and all content on this site is not authorised by FOX. This site is owned and maintained by Gary M. Gadsdon