This is the fan character compendium, it works similarly to the
Character Biography
page but instead of focusing on characters in the show, it covers the biographies of characters that fans have created for Fan Fiction. The icon next to their name indicates which fan fiction they come from. Some of the biographies featured on this page are written by the creators themselves.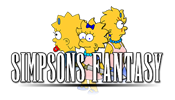 Margaret Jane Simpson
Created by: Gary M. Gadsdon
Born

January 10th 1999

Age

8

Hair

Blonde

Laterality

Ambidextrous

Weapon

Maggie Blade

Job Class

Paladin
Samurai
Thief

Skillset

Bushido
White Magic
Steal

Overdrive

Burning Pacifier
Father

Homer

Mother

Marge

Brother

Bart

Sisters

Lisa
Lucy

Uncle

Herbert

Husband

Mark

Daughter

Emily

Mentors

Locke
Terra
Cyan
Maggie is the third of four kids to Homer and Marge, and twin sister to Lucy, when she was a baby, she was being babysat by Professor Frink, and Maggie playfully used his Rift Portal to send herself to Gaia where she was found by Locke Cole and Terra Branford, from then on, she was raised by the two warriors and given a sword so that she can fight and defend herself.
Seven years later, the family came to find her, and she returned home with them, in Springfield, she would continue to train with her sword to hone her skills, but as she grew older, she gave up the weapon and took an interest in computers, and web design. She was working volunteerly online during her years in high school.
Regularly, Maggie would go back to Gaia to visit Locke and Terra, and would sometimes help them with any problems they had.
By the time she was 24, Maggie would have gotten married to her boyfriend from high school, Mark, and had a daughter of her own, and when she was moving house, she would visit Locke and Terra, and then return home to ruination, Maggie took up her sword once more to restore the town of Springfield back to it's former glory.
In game, Maggie has the most different classifications of any character. As a child, she is able to learn basic white magic upto level two spells (-ra level), but her proficiency with those spells are limited, lowering her usefulness as a white mage, she does later learn better spells as an adult, but her proficiency with them doesn't improve. Her true excel lies in the abilities with her sword, she has a variety of techniques learned from Cyan Garamonde to aid in dispatching enemies with elemental affinities easily, without the need for Black Magic. She can, despite being the slowest character, she can steal items from the enemy too, and is the only character besides Locke who is capable of doing so.
Disclaimer: The Simpsons is a copyrighted trademark of 20th Century FOX. Any and all content on this site is not authorised by FOX. This site is owned and maintained by Gary M. Gadsdon