This is the fan character compendium, it works similarly to the
Character Biography
page but instead of focusing on characters in the show, it covers the biographies of characters that fans have created for Fan Fiction. The icon next to their name indicates which fan fiction they come from. Some of the biographies featured on this page are written by the creators themselves.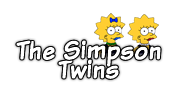 Margaret Jane Simpson
Created by: Gary M. Gadsdon
Born

December 17th 1984

Died

July 16th 2013

Age

8

Status

Deceased

Hair

Blonde

Laterality

Ambidextrous

Job

Waitress (8-11)
Lawyer (23+)
Father

Homer

Mother

Marge

Brother

Bart

Sister

Lisa

Niece

Laura
Maggie is the third of three kids to Homer and Marge, and twin sister to Lisa. When Lisa and Maggie were 8, they both volunterily left school in order to obtain jobs so that the family can raise money for a lawyer to sue Mr. Burns, who had been neglecting the stucture of the Nuclear Plant causing Homer to get radiation poisonng.
They find a job at a nearby club as waitresses, where occationally, they would sing with their brother Bart. Eventually, the lawyer would be paid for and they court proceedings start, shortly after Homer recovered. They won the case, and Lisa decided to return to school, while Maggie did not, claiming that she had everything she needed.
Lisa would eventually get her boss to fire her, as the Simpsons concluded it was the only way for her to leave the club and return to school. After a tearful discussion with Marge, Maggie understood why they did it.
At the age of 28, Maggie would become a lawyer herself, while Lisa would go on to run the club they both worked at 20 years prior, and one day while in a fast food resturant, Maggie would try to break two guys up who where having a fight and would get stabbed in the throat, dying almost instantly.
Disclaimer: The Simpsons is a copyrighted trademark of 20th Century FOX. Any and all content on this site is not authorised by FOX. This site is owned and maintained by Gary M. Gadsdon