Season

4

Production Code

9F10

Broadcast Index

S04E12

Episode Number

71

Airdate

13 January 1993

Writer

Conan O'Brien

Director

Rich Moore

Executive Producer

Al Jean
Mike Reiss

Guest Stars

Phil Hartman
Leonard Nemoy

DVD Commentary

Matt Groening
Al Jean
Mike Reiss
Conan O'Brien
Rich Moore
David Silverman

Editor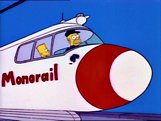 Plot
When Mr. Burns is fined $3,000,000 for dumping Nuclear Waste in the park, the town spends it on a Monorail recommended by Lyle Lanley (voiced by Phil Hartman) Homer is hired as the conductor. On the first ride, the breaks fail to work and everything is faulty. Using a scientist from North Haverbrook who bought a monorail from Lanley, suggests that Homer finds an anchor to stop the train, using the M from "Monorail" he manages to stop the train.
Intro Gags

I WILL NOT EAT THINGS FOR MONEY

After the family run in, Eddie, Patty, Selma, Apu, Krusty, Grampa, Herman, Jasper, Jaqueline Bouvier, Lou, Smithers, Mr. Burns, Mrs. Krabappel, Principal Skinner, Princess Kashmir (with black hair), Miss. Hoover, Chief Wiggum, Ned Flanders, Maude Flanders, Barney, Moe, Dr. Hibbert, Kent Brockman, Otto, Nelson, Milhouse, and Martin all join them.
Disclaimer: The Simpsons is a copyrighted trademark of 20th Century FOX. Any and all content on this site is not authorised by FOX. This site is owned and maintained by Gary M. Gadsdon