Season

5

Production Code

1F04

Episode Number

0

Airdate

14 October 1993

Writer

Watch Conan O'Brien
The Late Bill Oakley
The Estate of Josh Weinstein
Greg "It's Alive" Daniels
The Disfigured Dan McGrath
"Billous" Bill Canterbury

Director

David "Dry Bones" Silverman

Executive Producer

Damned David Mirkin

DVD Commentary

Matt Groening
James L. Brooks
David Mirkin
Conan O'Brien
Jim Reardon
David Silverman

Editor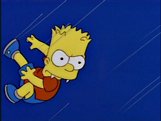 Plot
The Simpsons present tales around paintings.
THE DEVIL AND HOMER SIMPSON:
Homer wishes he could sell his soul for a donut, which the devil arranges, with a twist that Flanders is the devil. Homer finishes the donut, and is sentenced to a day in hell and is put up for a trial. Homer wins and is cursed with the donut as his head.
TERROR AT 5½ FT:
Bart has a dream of his own death, in the school bus, on the drive to school, Bart feels a little edgy when there is a monster attacking the wheels.
BART SIMPSON'S DRACULA:
When the Simpsons are invited to Mr. Burns castle in Pennsylvania, it turns out that Mr. Burns is a vampire. Burns manages to get his teeth into Bart, who then goes after Lisa. The family try to get Bart back by killing Mr. Burns.
Disclaimer: The Simpsons is a copyrighted trademark of 20th Century FOX. Any and all content on this site is not authorised by FOX. This site is owned and maintained by Gary M. Gadsdon