Season

13

Production Code

DABF10

Episode Number

0

Airdate

31 March 2002

Writer

Bob Anderson

Director

Steven Dean Moore

Executive Producer

Al Jean

Editor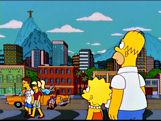 Plot
Discovering unusual long distance phone charges to Brazil, the Simpsons go to Rio de Janeiro in search of a missing Brazilian orphan boy that Lisa had been secretly sponsoring. They soon find him, and discover that he is a dancer for a children's show.
Meanwhile, Homer is kidnapped and taken to the Amazon. Ultimately, is exchanged for ransom at the cable cars on Sugarloaf Mountain in a parody of the James Bond film Moonraker.
No Reviews have been submitted yet. Click the Post New icon to post your own thoughts on this episode!
Disclaimer: The Simpsons is a copyrighted trademark of 20th Century FOX. Any and all content on this site is not authorised by FOX. This site is owned and maintained by Gary M. Gadsdon