Season

21

Production Code

MABF06

Broadcast Index

S21E13

Episode Number

454

Airdate

14 August 2010

Writer

Ian Maxtone-Graham
Billy Kimball

Director

Raymond S. Persi

Executive Producer

Al Jean

Guest Stars

Wren T. Brown

Editor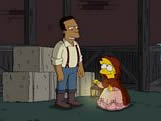 Character Debuts:
• Hiram Simpson
• Mabel Simpson
• Eliza Simpson
• Virgil Simpson
• Milford Van Houten
Plot
When Lisa is assigned to assemble her family tree she finds that most of them were criminals. She goes into the attic to find something that made the Simpsons appear in a positive light. She finds Eliza Simpson's diary from 1860.
While reading. Lisa finds that Eliza attempted to aid a Slave, Virgil escape to Freedom in Canada while Colonel Burns was having a ball. Eliza is successful in bringing Virgil to her house, where her parents, Hiram and Mabel agree to keep him safe.
Lisa, in the present, believes Eliza to be a hero and gives a presentation on how Eliza freed Virgil, as well as describe new origins on donuts, which Virgil apparently invented rather than the Dutch.
Milhouse on the other hand, has more information revealing that Hiram was confronted by Colonel Burns and revealed Virgil's location to him. Betraying Eliza, and in effect, Lisa.
Seeing Lisa deperesed, Grampa reveals that everything turned out fine for Virgil. It would seem that Mabel knowing that Hiram would go back on his word to Eliza brandished a shotgun at Burns and forced him to leave her property, she also left Hiram and helped Virgil escape to Canada.
Along the way, the two grew closer and Virgil proposed to Mabel. She divorced Hiram and they both took the name Simpson. Their son, was Abraham I, who was their Great-Great-Great Grandfather.
Lisa is overjoyed about being descended from Virgil. Wondering why Grampa never told anyone, he replies because his generation was racist.
Disclaimer: The Simpsons is a copyrighted trademark of 20th Century FOX. Any and all content on this site is not authorised by FOX. This site is owned and maintained by Gary M. Gadsdon