Season

21

Production Code

MABF15

Broadcast Index

S21E23

Episode Number

464

Airdate

23 May 2010

Writer

Dan Greaney
Allen Glazier

Director

Steven Dean Moore

Executive Producer

Al Jean

Guest Stars

Simon Cowell
Randy Jackson
Ellen DeGeneres
Kara DioGuardi
Rupert Murdoch
Ryan Seacrest

Editor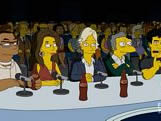 Plot
At a Dog Ugliness contest, Moe has a knack for judging things, so he becomes a judge throughout the town, and eventually he is given the call to judge on American Idol, and is betrayed by Simon Cowell who gives Moe bad advice.
While Moe is away, Homer spends more time at the house, which upsets Marge, so she tries to get him on Golf, but discovers that she may never see Homer again and stops his first shop.
Also, Santa's Little Helper, who was the winner of the dog ugliness contest feels sensitive about his looks, but Lisa helps him out.
Disclaimer: The Simpsons is a copyrighted trademark of 20th Century FOX. Any and all content on this site is not authorised by FOX. This site is owned and maintained by Gary M. Gadsdon