Season

14

Production Code

EABF05

Broadcast Index

S14E11

Episode Number

302

Airdate

16 February 2003

Writer

Andrew Kreisberg

Director

Matthew Nastuk

Executive Producer

Al Jean

Guest Stars

Tony Hawk
Mark Hoppus
Tom DeLonge
Travis Barker
Jane Kaczmarek

DVD Commentary

Matt Groening
Al Jean
Matt Selman
Kevin Curran
J. Stewart Burns
Tom Gammill
Max Pross
Dan Castellaneta
Hank Azaria
Mark Hoppus
Tony Hawk

Editor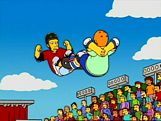 Plot
Looking through old video tapes, Bart and Lisa find a video featuring a commercial for a breath-freshening device for toddlers, starring a younger Bart as "Baby Stinkbreath." Bart confronts his parents about the ad and asks where all the money he must have made for it went. Homer tells him that he used it to buy back incriminating photos of Homer dropping Bart from a balcony. Bart is infuriated and claims he's sick of all of Homer's ill-treatments, but Homer taunts him that he can't do anything about them until he's eighteen. The next day, Bart goes to a law-firm named "Luvum and Burnham", Family Law. He meets the Blue-Haired Lawyer there, and tells him that he wants a "divorce' from his family.
The next day, after dinner, the Blue Haired Lawyer comes to the Simpson residence to serve Homer with a subpoena. When Homer and Marge see that Bart is suing them, they are shocked. Bart declares that he wants to be emancipated. At the trial, the Blue Haired Lawyer makes a strong case for Bart, by proving that Homer swindled Bart and that Homer has anger-management issues. Finally, Judge Constance Harm delivers the verdict: Bart is emancipated, and Homer has to pay him half his salary until he can pay off all the money he took from him. The next day, Bart prepares to leave and says tearful goodbyes to everyone but Homer, who angrily shouts at him to come back as his taxi drives away. Homer finally stops and starts crying in the middle of the street for the loss of his son.
Bart moves into his loft, which seems quite dark and scary, considering it is in downtown. However, he soon finds Tony Hawk living in the same building, who has a massive apartment with a skateboard rink and blink-182 performing. He and Hawk become friends, and Bart is content with his new life. Back at the Simpson house, Marge convinces Homer to apologize to Bart, and the family goes to meet him at his loft. Homer apologizes and requests Bart come home. Bart accepts the apology, but tells them that he is going on Tony Hawk's Skewed Tour. At the event, Homer meets up with Hawk and pleads with him to pretend to lose to him so that he can make Bart proud of him again. Tony reluctantly agrees and gives Homer a modified skateboard, which does all the stuntwork. Later, Homer challenges Tony to a skateboard match and does a good job, thanks to the skateboard. Tony, unhappy about being showed up by Homer, decides to "take out the thrash". They duel with their skateboards in mid-air, and Tony falls to the ground. Homer speaks to Bart and finally promises Bart that he will never ill-treat him again. Lindsay Naegle approaches Homer and asks him to star in a commercial. Homer accepts so that he can give the money to Bart. Now Homer is embarrassed when he watched the final product, an ad for an impotence drug, but Bart told him that nobody will remember after fifty years. Fifty years later, Homer is dead, and an older Nelson laughs at his grave.
Disclaimer: The Simpsons is a copyrighted trademark of 20th Century FOX. Any and all content on this site is not authorised by FOX. This site is owned and maintained by Gary M. Gadsdon