Season

23

Production Code

NABF17

Broadcast Index

S23E02

Episode Number

488

Airdate

02 October 2011

Writer

Tim Long

Director

Steven Dean Moore

Executive Producer

Al Jean

Guest Stars

Theodore Roosevelt

Editor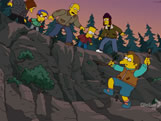 Plot
After one of Bart's pranks at the school, Principal Skinner challenges Superintendent Chalmers to teach Bart, he agrees. At first, Bart was uninterested, but came around when Chalmers taught Bart about the exploits of Theodore Roosevelt.
Milhouse, Nelson, Jimbo, Kearney and Dolph soon join in on Bart's lessons, and the group go on a field trip to the forest to find Roosevelt's lost spectacles. When Nelson finds them, and hanging on a cliff, he falls. Nelson's mother threatens to sue Chalmers, and he is fired.
The kids stage a takeover of the school, a SWAT team arrives to get them out, but Chief Wiggum drops his gun shooting State Comptroller Atkins and Chalmers gets his job back.
Intro Gags

Arnie Pie falls out of his helicoper shouting "The Simpsons, wha?"

LEARN TO SPEAK PARROT
Featuring a picture of Captain McCallister

IT'S NOT TOO EARLY TO SPECULATE ABOUT THE 2016 ELECTION

John Kricfalusi anited the family in the style of Ren and Stimpy. Homer requests beer which Marge gets, Bart lays a Woopie Cushion under Homer causing him to strangle Bart, and making his head explode. Maggie starts to crawl around on the floor. Lisa doesn't do anything.
Disclaimer: The Simpsons is a copyrighted trademark of 20th Century FOX. Any and all content on this site is not authorised by FOX. This site is owned and maintained by Gary M. Gadsdon