Season

23

Production Code

NABF21

Broadcast Index

S23E04

Episode Number

490

Airdate

06 November 2011

Writer

Stephanie Gillis

Director

Mark Kirkland

Executive Producer

Al Jean

Guest Stars

Jane Lynch

Editor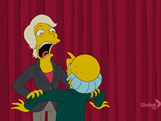 Plot
Homer gets a new assistant, which at first goes well, but when Barney invites him to go to a movie, his assistant, Roz, snitches on him and Homer gets demoted to be Roz's assistant, who is extremely hard on him. Homer discovers from Flanders that he can get his own back by getting Mr. Burns to hug her, since she hates being touched. Burns does so, and Roz throws a fit of rage, resulting in Burns firing her.
Meanwhile at the school, Lisa gets second place in a science fair, which Bart and Martin won with a Robotic baby seal. Which they give to the old folks as it cheers them up. The pair make more, but because the old folks are living longer, the funeral home owners turn the seels into their bad state with crossed wires, killing Mrs. Glick. Bart and Martin get help from Professor Frink as well as Benjamin, Doug and Gary to reset their wires and bring them back to the old folks home.
Intro Gags

Groundskeeper Willie uses his Leaf Blower to fly around.

30 LOST CATS - CALL ME
Featuring a picture of The Crazy Cat Lady

IT'S NOVEMBER 6TH WHY AREN'T WE AIRING A HALLOWEEN SHOW?

The living room is part of a Smithsonian Museum exihibt. The Simpsons break in, to sit down. But have to disguise themselves as janitors, mummies and part of a painting to get past the guards. The couch is also protected by lazers, but there is space between them for each family member to fit through.
Disclaimer: The Simpsons is a copyrighted trademark of 20th Century FOX. Any and all content on this site is not authorised by FOX. This site is owned and maintained by Gary M. Gadsdon