Season

23

Production Code

PABF03

Broadcast Index

S23E10

Episode Number

496

Airdate

08 January 2012

Writer

John Frink

Director

Mark Kirkland

Executive Producer

Al Jean

Guest Stars

Dana Ghould
Ted Nugent

Editor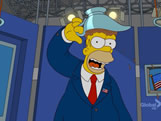 Plot
After a YouTube video posted by Bart of Homer goes viral, Homer is given his own TV Show called "Gut Check With Homer Simpson", it later becomes popular enough to warrant that the Republican Party should want Homer to select their presidential candidate. Ted Nugent gets Homer's support, but when announcing it on his show, he realises, that what Nugent's goals are are totally wrong.
Intro Gags

Maggie is wearing a parachute and Grampa is wearing a harness. Maggie's sash says 2012, while Grampa's says 2011. Maggie is lowering, while Grampa rises.

REELECT MAYOR QUIMBY - THE DEVIL YOU KNOW FOR 18 YEARS
Featuring a picture of Mayor Quimby

TINTIN DID NOT SUCKSUCK

The house and family arrive in Victorian Style clothes. The screen goes dark and there's a gunshot. Homer is dead. Chief Wiggum and Lou do an investigation arresting Bart. But it was actually Marge who shot him.
Disclaimer: The Simpsons is a copyrighted trademark of 20th Century FOX. Any and all content on this site is not authorised by FOX. This site is owned and maintained by Gary M. Gadsdon