Season

15

Production Code

FABF10

Episode Number

0

Airdate

21 March 2004

Writer

Matt Warburton

Director

Bob Anderson

Executive Producer

Al Jean

Editor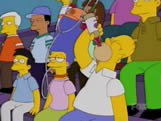 Plot
Homer, Bart, and Lisa see the newest Cosmic Wars film, The Gathering Shadow, and the movie turns out to be less than what they expected. At home, Marge suggests that Bart and Lisa write a letter to Cosmic Wars creator Randall Curtis. Two weeks later, they get a reply from Curtis, which completely ignores their criticism, having sent them Jim-Jam merchandise. This forces the Simpsons to go on a trip to California, where Homer and Marge go to wineries, and Bart and Lisa go to the Cosmic Wars Ranch, which was previously called Fresno. Bart and Lisa visit Randall Curtis and tell him that his Cosmic Wars movies have lost their way. He doesn't like what they are saying until Lisa points out that better technology is no way to make the story better. Curtis agrees, and he decides to go back to his storytelling roots. (For inspiration he decides to go to the video store, and rides there on a tauntaun.)
Bart and Lisa rejoin Homer and Marge, who are both drunk from free samples of the wine. Back in Springfield, Homer and Marge get addicted to wine, but Marge suffers a hangover. She tells Homer that he shouldn't be drinking, and he agrees. Unfortunately, when they go to an Oktoberfest featuring Grammy-winning nuclear polka band Brave Combo, Marge, who tries to go through without drinking, gives in and ends up drunk along with Homer. He tries to drive them home, but in a drunken stupor overturns the car.
In order to avoid an arrest, Homer makes things look like Marge (who is more drunk than him) was the driver. She is arrested, but he bails her out. Later, Barney suggests that Marge go to a rehab clinic for a month, and when Marge is gone, Homer lets Flanders take care of the kids. He sees her and confesses, but Marge drinks again. Later on, she finds out that she likes being with Homer more than drinking, and spends some time with him.
No Reviews have been submitted yet. Click the Post New icon to post your own thoughts on this episode!
Disclaimer: The Simpsons is a copyrighted trademark of 20th Century FOX. Any and all content on this site is not authorised by FOX. This site is owned and maintained by Gary M. Gadsdon