Season

22

Production Code

MABF17

Broadcast Index

S22E02

Episode Number

466

Airdate

03 October 2010

Writer

Valentina L. Garza

Director

Matthew Faughnan

Executive Producer

Al Jean

Guest Stars

Mark Zuckerberg
Chris Hansen
Muhammad Yunus

Editor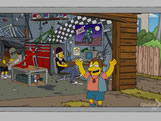 Plot
Grampa decides to give his family his inheritance which turns out to be a mere $50 each. The family spend their money in different ways. Marge buys a new handbag which turns out to be ten times the amount she thought it was because it was covered up, she agrees with Homer to take it back, but he takes her out for the night. While out, he accidentally stains it, but it is returned anyway, successfully. Homer believes that he can buy and return used items as he pleases. But is eventually caught.
Lisa however, donates her money to microfinance a small business. She decides to finance Nelson who creates a bike customisation business and actually turns out rather well. The side effect is that he decides to drop out of school. Skinner doesn't even try to get him to stay, so much so, that Skinner joins Nelson's business for $11 an hour.
Lisa still determined, takes Nelson to an Entrepreneur expo, where Facebook creator Mark Zuckerberg is exhibiting. Mark was a drop out, and a janitor who graduated isn't doing too great.
The next day, Lisa goes to tell Nelson that she can't persuade him to return to school, but finds him under pressure of complaints, it turns out that the Epoxy he's been using is Water Soluble. Nelson helps finance the school with $50 of his own, and treats Lisa to a day out at a roller skate rink.
Intro Gags
Mr. Burns flies a giant blimp with his face on the side.

SPRINGFIELD DMV - WAITING TIME 39 HOURS
Featuring a picture of Patty and Selma

I DID NOT SEE THE TEACHER APPLYING FOR WELFARE

The family run in to find a dead body on their floor. The Police arrive, and the family flee on the couch driven by Homer. They are caught and placed in a police lineup. There, they are identified as the murderers instead of the Flanders's and the Hibbert's. They are jailed, and then electrocuted. When electrocuted they scream and light up.
Disclaimer: The Simpsons is a copyrighted trademark of 20th Century FOX. Any and all content on this site is not authorised by FOX. This site is owned and maintained by Gary M. Gadsdon