Season

22

Production Code

NABF10

Broadcast Index

S22E17

Episode Number

481

Airdate

27 March 2011

Writer

Bill Odenkirk

Director

Michael Polcino

Executive Producer

Al Jean

Guest Stars

Paul Rudd
Kareem Abdul-Jabbar

Editor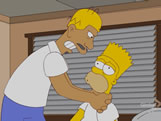 Character Debuts:
• Dr. Zander



Plot
When Homer accidentally humiliates Bart at a football game, Marge enrolls him into a fathering course where he reveals that he strangles his son. The therapist, Dr. Zander enlists the help of Kareem Abdul-Jabbar to help Homer shake the habit. But as a result, it becomes too effective and Bart becomes out of control with Homer being too afraid to punish Bart.
Intro Gags

The Futurama theme plays as the Planet Express ship flies by.

DO NOT ACCEPT CANDY FROM THIS BUNNY
Featuring a picture of Moe dressed as the Easter Bunny

I WILL NOT RIDICULE TEACHER'S FINAL FOUR BRACKET

The living room is made out ASCII Art. Bart then places "FATSO" causing Homer to respond with D'oh.
Disclaimer: The Simpsons is a copyrighted trademark of 20th Century FOX. Any and all content on this site is not authorised by FOX. This site is owned and maintained by Gary M. Gadsdon