Season

22

Production Code

NABF02

Broadcast Index

S22E07

Episode Number

471

Airdate

28 November 2010

Writer

Kevin Curran

Director

Micheal Polchino

Executive Producer

Al Jean

Guest Stars

Danica Patrick
Rachel Weisz

Editor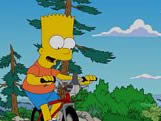 Plot
During a stormy night, a pigeon flies into Bart's bedroom window with a broken wing, so Bart decides to nurse him back to health since Lisa doesn't want to, after watching an ad on TV, Bart uses the bird as a carrier pigeon, where eventually it is eaten by Santa's Little Helper.
Bart feels depressed over losing the bird, and goes into therapy, where the doctor says that the Simpsons would have to give him away.
When the family go to an Ostrich farm to give the dog away, Bart gets attacked by an Ostrich but Santa's Little Helper wont attack it because of previously being yelled at by Bart. As a result, Bart has to kill the Ostrich himself, and apologies to him. But it turns out the Ostrich wasn't really dead and strangles Homer on the drive home.
Intro Gags

The FOX copter flies in claiming that it's not suitable for anyone under 75.

SPRINGFIELD KWIK-E-MART THOUGHTLESS GIFTS FOR PEOPLE YOU DON'T LIKE
Featuring a picture of Apu

"A CHARLIE BROWN THANKSGIVING" IS AS GOOD AS "A CHARLIE BROWN CHRISTMAS"

Professor Frink shrinks the family down to microscopic sizes. They almost get trampled on by Grampa, and Snowball II tries to eat them, so the family run into the mouse hole, and sit on some cheese which turns out to be on a mousetrap, the family, on the cheese causes the trap to trigger.
Disclaimer: The Simpsons is a copyrighted trademark of 20th Century FOX. Any and all content on this site is not authorised by FOX. This site is owned and maintained by Gary M. Gadsdon