Season

22

Production Code

MABF19

Broadcast Index

S22E09

Episode Number

473

Airdate

12 December 2010

Writer

Chris Cluess

Director

Ralph Sosa

Executive Producer

Al Jean

Guest Stars

Jon Hamm
Joe Mantegna

Editor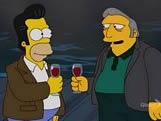 Character Debuts:
• Fit Tony
Plot
After a New Year Party, Homer gets caught trying to bribe his way out of some minor offenses he did earlier that day, as a result he is arrested and thrown in jail for 10 years, but gets it shrunk by agreeing to become an FBI informant against Fat Tony.
Homer infiltrates his way through to Fat Tony as an informant Nicky. When the big deal goes down of smuggling Belgian guns, Homer gets found out, but Fat Tony also dies.
Seeking revenge against Homer, Fat Tony's cousin, Fit Tony arrives. But after talking to Homer, and realising that Fat Tony's memory will live through Homer, he decides not to kill him.
Fit Tony then takes over Fat Tony's place in the mafia, but pressure gets to him, so he starts to eat. Thus becoming a new Fat Tony, returning everything back to the status quo.
Intro Gags
The FOX Helicopter appears claiming "MERRY CHRISTMAS FROM FOX NEWS... BUT NO OTHER HOLIDAYS"

LUXURY CARS MISSING ONE WINDOW - NO COPS
Featuring a picture of Snake

CANDY CANES ARE NOT ELF BONES

The house is shown as an advent calendar. There are 24 panels to be revealed, one for each day in December until Christmas Eve:
1st: Moe is hanging a christmas garland on his door made of beer cans.
2nd: Comic Book Guy is building a Death Star out of gingerbread
3rd: Snowball II is a raindeer
4th: Costingtons Department Store
5th: Kang or Kodos is attacking Santa
6th: The Statue of Jebediah Springfield is dressed as Santa
7th: Ralph is in his own stocking.
8th: Krusty is passed out in the gutter
9th: The School is closed
10th: The Flanders's house is decorated
11th: Nelson is looking at his tree
12th: Notivity scene with Mr. Teeny as Jesus
13th: Homer is strangling Bart
14th: Kent Brockman is dressed as an Elf
15th: Lisa is placing an Angel onto Marge's hair
16th: Snake is stealing from Santa
17th: The Old Jewish Man and Rabbi Krustofsky are eating sushi
18th: Otto is being towed by raindeer
19th: Kearney is on Santa's knee
20th: Smithers is on Santa's knee
21st: Santa is on Smithers's knee
22nd: Dr. Hibbert is doing surgery on Hans Moleman
23rd: Moe has Mistletoe on a hat that says "Kiss Me"
24th: The family on the couch plus Santa who has Maggie on his knee
Disclaimer: The Simpsons is a copyrighted trademark of 20th Century FOX. Any and all content on this site is not authorised by FOX. This site is owned and maintained by Gary M. Gadsdon