Season

22

Production Code

NABF05

Broadcast Index

S22E12

Episode Number

476

Airdate

23 January 2011

Writer

Joel H. Cohen

Director

Mark Kirkland

Executive Producer

Al Jean

Guest Stars

James Lipton
David Mamet

Editor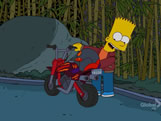 Plot
Homer becomes obsessed with an 80's TV show and acts like the shows father. In doing so, he doesn't give Bart a Mini-Bike he wants. Bart asks Lisa for how he can get some money, Lisa tells him that he could be given the money from Homer if he gets good grades. He does so, but still no dirt bike. In overhearing Homer talk to Apu, Bart figures that he could steal all of Homer's Nuclear Secrets and sell them to another country for the bike. So he spends time with Homer and at the plant downloads all of their data to a USB Stick, after he drops the data off and getting his mini-bike, he finds that Homer bought him one as well. Bart tries to get the memory stick back, but the Chinese he sold the data to, still wants it. Homer protects his son, agreeing to go to China to build a plant with his nuclear secrets but it explodes. Homer and Bart return to just watching TV.
Intro Gags

Moe flies by on a pair of skis, he gets hit by the I in "Simpsons"

SPRINGFIELD SEAFOOD, NOW 50% MORE FISH EYES
Featuring a picture of Blinky

PRINCE IS NOT THE SON OF MARTIN LUTHER KING
The family chase the couch throughout a newspaper, including the news, sports and comics section, they finally reunite in Classifieds.
Disclaimer: The Simpsons is a copyrighted trademark of 20th Century FOX. Any and all content on this site is not authorised by FOX. This site is owned and maintained by Gary M. Gadsdon