Season

22

Production Code

MABF18

Broadcast Index

S22E03

Episode Number

467

Airdate

15 October 2010

Writer

Tim Long

Director

Nancy Kruse

Executive Producer

Al Jean

Guest Stars

Mike Scioscia
Bill James

Editor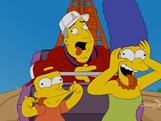 Character Debuts:
• Dahlia Brinkley
Plot
When an old Springfield Alumni visits, Lisa gets an inferiority complex because she is involved with so few extracurricular activities, when at the same time, Flanders quits as Bart's little league coach. Lisa offers to replace him.
She happens to know nothing about baseball, and seeks advice from Moe's Tavern, the regulars prove to be no help, but Professor Frink, Benjamin, Doug and Gary do actually provide help, they teach Lisa about sabermetrics.
Using statistics as a basis, Lisa guides her team to the finals. Bart fed up with Lisa having sucked the fun out of the sport, decides to go against Lisa's orders, as a result, she throws him off the team. The team, is none to happy with her reaction.
The split causes Homer and Marge to side with Lisa and Bart respectively. Homer takes Lisa to the final game, while Marge takes Bart to an amusement park, where they meet Mike Scioscia and points out that even the best players should listen to their managers.
As it turns out that at the game, Lisa is in trouble, and asks for Bart's help. Going under Scioscia's advice, Bart agrees to help his sister, but still plays his own way. Lisa discovers that it's not about numbers, but just being in the moment. The two reconcile.
Intro Gags

The three eyed crow flies by from the left with a Rat in it's mouth.

KRUSTY NOW DOING FUNERALS
Featuring a picture of Krusty and the name BANKSY is spraypainted over the whole thing

I MUST NOT WRITE ALL OVER THE WALLS
Naturally, Bart has written in chalk all over the walls

The family are seated on the couch which turns out to be a picture hanging in a sweatshop that produces animation cels and merchandise, in harsh environments.
Disclaimer: The Simpsons is a copyrighted trademark of 20th Century FOX. Any and all content on this site is not authorised by FOX. This site is owned and maintained by Gary M. Gadsdon