Season

22

Production Code

NABF06

Broadcast Index

S22E13

Episode Number

477

Airdate

13 February 2011

Writer

Rob LaZebnik

Director

Bob Anderson
Matthew Schofield

Executive Producer

Al Jean

Editor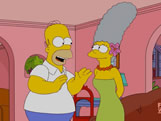 Plot
After valentines, Marge discovers that she's going grey, but after seeing another woman unphased by it, she decides to keep it that way instead of continuing to dye it blue. She ends up being treated as an elderly woman, and it annoys her.
Moe, at the same time, attends a seminar to gain confidence in talking to women, and employs Homer as his wingman who becomes popular with the ladies during Moe's outings. Marge finds out and is angry and confronts Homer about what he's doing, but Homer tells her that she has nothing to fear.
Marge decides, it'd be a good idea to switch her back to Blue.
Intro Gags
Homer, dressed as Pie Man and Bart, dresses as The Cupcake Kid fly by from the right.
SPRINGFIELD DINNER THEATER DR. HIBBERT and MRS. SKINNER BUTCHER DRIVING MISS DAISY
Featuring a picture of Dr. Hibbert and Agnes Skinner

I WILL NOT MAKE FUN OF CUPID'S DINK

Homer breaks his leg running to the couch, so Mr. Burns as a team coach tells Barney to fill in for him while Homer is taken away on a stretcher.
Disclaimer: The Simpsons is a copyrighted trademark of 20th Century FOX. Any and all content on this site is not authorised by FOX. This site is owned and maintained by Gary M. Gadsdon