Season

22

Production Code

NABF15

Broadcast Index

S22E22

Episode Number

486

Airdate

22 May 2011

Writer

Jeff Westbrook

Director

Chuck Sheetz

Executive Producer

Al Jean

Guest Stars

Joey Kramer
Ken Burns

Editor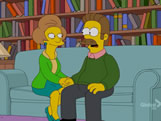 Plot
Bart gets Mrs. Krabappel suspended after a prank, she has to report to a reassignment center until her hearing. Bart helps her bust out, and after falling from a height, Ned Flanders saves her.
The two fall in love, and after Flanders finds out that every man in Springfield has gone out with her (including Aerosmith drummer, Joey Kramer), Ned wonders if he should stay with her.
So the internet gets to decide.
Disclaimer: The Simpsons is a copyrighted trademark of 20th Century FOX. Any and all content on this site is not authorised by FOX. This site is owned and maintained by Gary M. Gadsdon