Season

22

Production Code

NABF04

Broadcast Index

S22E11

Episode Number

475

Airdate

16 January 2011

Writer

Matt Selman

Director

Chuck Sheetz

Executive Producer

Al Jean

Guest Stars

Alyson Hannigan
Kristen Wiig
Scott Thompson

Editor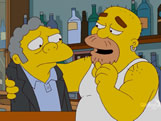 Character Debuts:
• Ms. Juniper
• Melody Juniper



Plot
When Smithers discovers that he is left out of Mr. Burns's will, he is told that he needs to become a self-made man to earn his respect. Depressed he tries to enter the Gay bar across the street from Moe's but is rejected, so he goes into Moe's itself. Noticing that it's not doing very well, Smither's aids Moe into getting some customers by turning it into a Gay bar.
Moe to feel accepted acts as if he is Gay himself, and the gay community feels as if they are being shunned, as a result they believe that getting Moe onto the City Council will bring their acceptance, but Moe finally comes out that he is straight.
Meanwhile, Mr. Largo leaves the school, and is replaced by a young woman, Ms. Juniper, who Principak Skinner falls for, but sets Bart up with her daughter Melody to get close to her. When Bart breaks up with Melody, Ms. Juniper leaves town, wanting Principal Skinner to leave with her, which he does, but returns three months later.
Disclaimer: The Simpsons is a copyrighted trademark of 20th Century FOX. Any and all content on this site is not authorised by FOX. This site is owned and maintained by Gary M. Gadsdon