Season

22

Production Code

NABF13

Broadcast Index

S22E20

Episode Number

487

Airdate

08 May 2011

Writer

Peter Gaffney
Steve Viksten

Director

Mark Kirkland

Executive Producer

Al Jean

Guest Stars

Kristen Schaal

Editor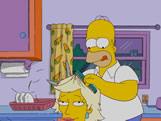 Plot
When Homer discovers that for some reason, he has a knack for cutting hair, he opens his own hair salon. It proves popular. But he gets annoyed by the fact the women constantly talk about their husbands and it drives him nuts. He tries to quit, but Chief Wigggum wouldn't let him. As a result, he and Marge come up with a plan where she cheated on him for another barber.
Meanwhile, Milhouse proclaims his love for Lisa (again) but is rejected. He rebounds onto a fifth grader named Taffy. Lisa wonders why she would go for a boy like Milhouse, and follows them around.
Intro Gags

Homer is flying on a magic carpet.

MOTHERS DAY SPECIAL - I'M HALF OFF
Featuring a picture of Nelson's Mother

I DO NOT DESERVE A MOTHER'S DAY GIFT FOR BEING ONE "BAD ASS MOTHER"

The living room is part of a Smithsonian Museum exihibt. The Simpsons break in, to sit down. But have to disguise themselves as janitors, mummies and part of a painting to get past the guards. The couch is also protected by lazers, but there is space between them for each family member to fit through.
Disclaimer: The Simpsons is a copyrighted trademark of 20th Century FOX. Any and all content on this site is not authorised by FOX. This site is owned and maintained by Gary M. Gadsdon