Season

22

Production Code

MABF21

Broadcast Index

S22E01

Episode Number

465

Airdate

26 September 2010

Writer

Tim Long

Director

Mark Kirkland

Executive Producer

Al Jean

Guest Stars

Jemaine Clement
Bret McKenzie
Lea Michele
Cory Monteith
Amber Riley

Editor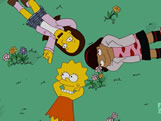 Plot
When Krusty gets the Nobel Peace Prize, he is invited to go to Oslo to claim it, to help him, he takes Homer and Bart along with him, but when he lands, he finds that it's a ruse to get him to Europe, where he is placed under arrest for various charges. Homer and Bart set to set him free, which they do with a DVD.
Meanwhile, Lisa disgruntled that she is always overlooked, is surprised, when Marge lets her spend a week at an Arts camp. When Marge comes by a week later, Lisa has trouble readjusting to regular life back in Springfield, so she runs away to Sprooklyn where the councilors at the camp, Ethan and Kurt, live where she discovers that they over exaggerated themselves and they only work in a sandwich shop. They encourage Lisa to return home and that she should attempt to make a name for herself when she's older.
Intro Gags

Otto flies by in the School Bus

PROF. FRINK'S SEX/KILL BOTS MAKE SURE SWITCH IS IN CORRECT POSITION
Featuring a picture of Professor Frink

WHEN I FELL ASLEEP IN CLASS IT WAS NOT TO HELP LEO DICAPRIO

There is a 22nd Season Premere Banner behind the couch, an executive comes in with a cupcake and a candle, Maggie blows it out. The executive eats the cake and walks away, the family, feels disappointed.
Disclaimer: The Simpsons is a copyrighted trademark of 20th Century FOX. Any and all content on this site is not authorised by FOX. This site is owned and maintained by Gary M. Gadsdon