Season

19

Production Code

KABF10

Episode Number

0

Airdate

27 April 2008

Writer

Jeff Westbrook

Director

Nancy Kruse

Executive Producer

Al Jean

Editor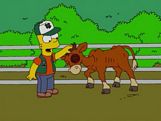 Plot
When Homer and Bart take a trip to Shelbyville, Bart see's that Martin is driving a Combine Harvester and that he is a member of the 4-H Club. Bart joins.
The Club's Summer Project is to raise a calf. Bart is forced to raise a calf he names Lou. Bart starts become attached to him. Bart and Lou win a contest but the first place prize is the first opportunity to be slaughtered. Bart and Lisa devise a plan to save Lou and hide him out at Mary's, a girl who Bart had recently met (voiced by Zooey Deschanel), but Cletus, her father, says that it's Hill-folk tradition that when a boy offers a girl a cow, it counts as a formal proposal.
For Bart he only has one option to get married to save Lou. Lisa seeks help from Homer and Marge who come up with a plan. Homer dresses up as Lou and the family take Lou to the airport where he is shipped to India with Apu's help. Homer is about to pass through the slaughtering machine just before the family come and save him.
Disclaimer: The Simpsons is a copyrighted trademark of 20th Century FOX. Any and all content on this site is not authorised by FOX. This site is owned and maintained by Gary M. Gadsdon